Areas Attractions > Tonle Sap
Floating Village
The Floating Village and Port of Chong Khneas are located less than 15km from Siem Reap. It is the perfect place to visit on the Tonle Sap Lake for those that don't have the time to explore Prek Toal or Kompong Phluk.
Flooded Forest
The Flooded Forest at Kompong Phluk is a mangrove forest on the Tonle Sap Lake floodplain. During the wet season when the forest is flooded only the tips of the trees are visible, whilst during the dry season the flooded forest is not very flooded at all!
Chong Khneas
Chong Khneas is the floating village at the edge of the lake closest and most accessible to Siem Reap. If you want a relatively quick and easy look at the Tonle Sap Lake, boat tours of Chong Khneas are available, departing from the Chong Khneas boat docks all day long.
Kampong Phluk
Kampong Phluk is a cluster of three villages of stilted houses built within the floodplain about 16 km southeast of Siem Reap. The villages are primarily Khmer and have about 3000 inhabitants between them. The area can be reached by boat from the Chong Khneas or by road.
Kampong Khleang
Kampong Khleang is located on the northern lake-edge about 35 km east of Siem Reap town. It is the largest community on the Lake. The area can be reached by boat from the Chong Khneas docks or by a combination of road to Domdek on Route #6 and then boat to the village, the best method depending on the time of year.
Prek Toal Bird Sanctuary
The Bird Sanctuary at the Prek Toal Tonle Sap Biosphere Reserve is one of the most important breeding grounds in the whole of Southeast Asia for endangered water-birds. Many different species of rare birds can be found there, including but not limited to Black-headed Ibis, Painted Stork, Greater and Lesser Adjuncts, Spot-billed Pelican, Milky Stork and the Grey-Headed Fish Eagle. Prek Toal is a must see location for any avid birdwatchers visiting Siem Reap or Cambodia. Boat trip to Prek Toal takes about two hours from Chong Kneas boat dock.
Photos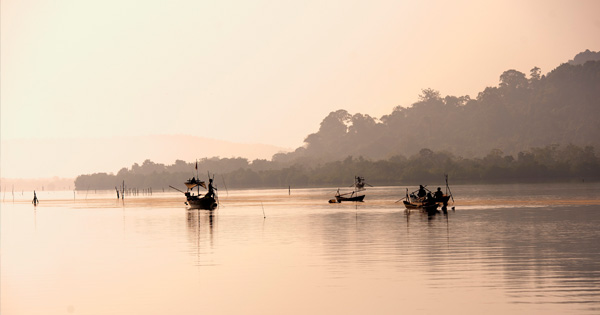 Prev
Next