メディアセンター > プレスリリース > 第4回アンコールアマチュアオープンが開催
Fantastic Fourth Angkor Amateur Open (Back to Awards)
5 August 2012
Angkor Amateur Open scales new heights with well-received fourth edition
It was fitting that the fourth edition of the Angkor Amateur Open coincided with the XXX Olympiad in London. Organised by and staged at the award-winning Angkor Golf Resort in Siem Reap, Cambodia in early August, the tournament was a mini Olympic of sorts as it brought together 70 golfers from 16 countries for three days of excellent golf and cross-cultural camaraderie.
Cambodian national team stalwart Ly Hong showed his class by running away with the overall gross title after rounds of 70 and 75 in humid yet windy conditions at the 7279-yard, Nick Faldo-designed course, which earlier this year hosted the Asian Tour's Handa Faldo Cambodian Classic. The left-handed Ly finished eight shots ahead of Nick Toon, an English expatriate from Bangkok.
Ladies divisions also won great prizes, thanks to the generosity of the event's sponsors that included TaylorMade, Blackberry, Vietnam Airlines, Golfasian and Liberty Golf. In a fitting conclusion to a great event, the prizegiving lunch at the golf club saw a bottle of Johnnie Walker Gold Label provided for each table along with free flow of Tiger beer.
"This is my third time playing in the Angkor Amateur Open and it's great to finally win," said Ly, who has played in two Asian Games and two SEA Games for his country. "I really enjoy playing in this tournament and I think Angkor Golf Resort is the best golf course in Cambodia. For sure I will return to defend my title next year!"
English pro Chris Rodgers, who conducted a one-hour clinic on Friday afternoon following the practice round. A regular on the Asian Tour, the Bangkok-based Rodgers also played in the event although he was not eligible for prizes, shooting impressive rounds of 68 and 73 from the black tees. Angkor Golf Resort's Scottish general manager Adam Robertson was extremely pleased with how this year's event transpired, saying: "We are delighted with the number of participants as our target was to reach the 70 mark and we managed to accomplish that. Each year we have had a noticeable increase in the field; the first year we had 42 and last year was 64, so 70 players from 16 countries including Nepal is an achievement."
Robertson noted that the event attracts many return participants due to the rustic charm of the town and quality of the golf course.
"I think they come back because Siem Reap is such a unique and charming place to visit and enjoy your golf. The size of the town makes it easy to get around and the hotels are so close by that travelling around is simple. I also like to think they return to play Angkor Golf Resort, which was in superb condition for them," he said.
Golfers can expect a well-run event and magnificently groomed course in 2013. This is a given, but we may change the format next year to encourage more couples to participate. We may have a mixed foursomes tournament on Thursday or Friday to encourage lady golfers to participate."
Two Malaysians took part in the tournament, Phnom Penh-based expat Chris Ponniah who was runner-up in the A Medal category and Steven Leow from Kuala Lumpur. Leow, who is the CEO of caddie management company Golfers Mate, was extremely impressed by the event and the golf course.
"I think overall it was a great event and the golf course is absolutely fantastic," said Leow. "Indeed, I would say Angkor Golf Resort is one of the best courses I have ever played."
Like many of the overseas participants, Leow stayed at the event's official hotel, Sokha Angkor Resort, where a poolside gala dinner was staged on Saturday night.
"Sokha Angkor Resort is a beautiful hotel and the service was truly superb," noted Leow. "And the fact that the hotel is in town yet only 10 minutes from the golf course made it the ideal place to stay."
For more information on Angkor Golf Resort, log on to
www.angkor-golf.com
Photos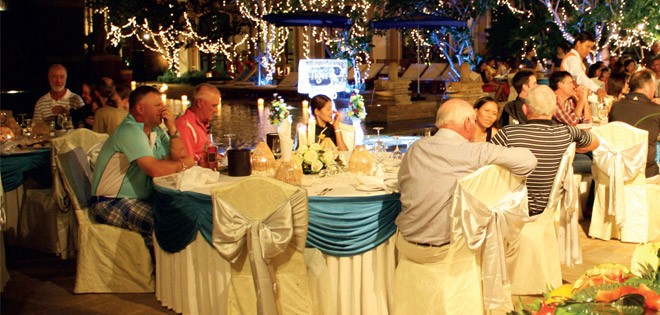 Prev
Next