Media Centre > Awards > Resort Hotel of the Year by MATT
2013- Resort Hotel of the Year by MTAA (Back to Awards)
Siem Reap, September 2013 – Sokha Angkor Resort, one of the most luxurious hotels in Siem Reap, announced today has won "Resort Hotel of the Year" from Mekong Tourism Alliance Award 2013 in the 9th International Travel Expo held at White Palace Restaurant in Ho Chi Minh City, Vietnam.

This award has shown the recognition for Sokha Angkor Resort's effort and commitment to hospitality as well as a contribution to tourism industry. It is a true honour to receive this award among many potential competitors in Siem Reap and is recognised by the five ministers in Cambodia, Vietnam, Thailand, Laos and Myanmar. This recognition has also shown Sokha Angkor Resort possess the excellence in every aspect including facilities, services, operation, architecture, design and inspired ambiance.

The Mekong Tourism Alliance Awards (MTAA) celebrates and recognises the brightest tourism stars in the five Mekong Tourism Alliance countries of Cambodia, Laos, Myanmar, Thailand and Vietnam. The Awards aim to instil a greater sense of pride and achievement for professionals and organisations and serves as recognition for quality excellence in tourism and hospitality in the alliance countries.

The awards were evaluated by the international judging panel made by Mr. Jose Filipe Torres, Mr. Mason Florence, Mr. Edouard George, Mr. El Kwang, Mr. Kyi Thein Ko.

"We are delighted that the MTTA has recognised us as the Resort Hotel of the Year in year of 2013. Our achievement is the result of continued growth and providing the excellence service in hospitality industry and this award is a further recognition of our staff's achievements and commitment." said Mr. Emmett McHenry, General Manager at Sokha Angkor Resort.
Sokha Hotels & Resorts
The Sokha Hotels & Resorts also known as Sokha Hotels Group is a Phnom Penh-based hotel and resort company, the hospitality division under the Sokimex Group. The company was founded in 2004 by Neak Oknha Sok Kong. Today, Sokha Hotels & Resort has four (04) hotel properties located in four (04) main cities and provinces in Cambodia.

Sokha Angkor Resort is an affiliate of WORLDHOTELS and is one of the properties under Sokha Hotels & Resorts located in the heart of Siem Reap. The resort was opened its door to public on 08 December 2005 and is a 5-star classic luxury resort providing world-class service with true Khmer hospitality. The Resort is conveniently walking distance to the near famous Pub Street, popular local handicrafts and Old Market, 10 minute drive from
Photos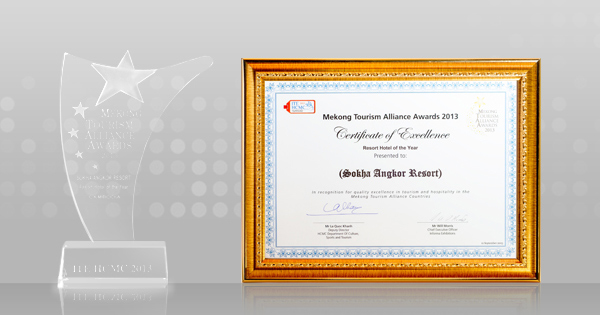 Prev
Next